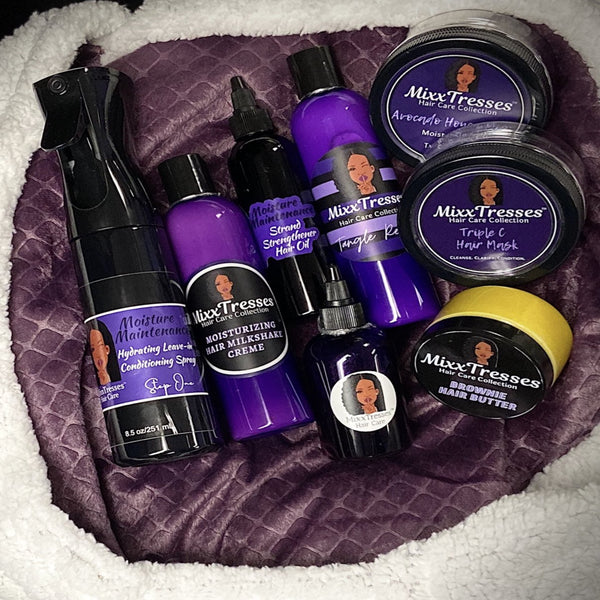 Exfoliate, Detangle, Cleanse, Restore & Maintain Bundle*
This complete kit includes all of MixxTresses hair care products and does everything listed in its name. The Scalp Scrub detoxifies your scalp, while exfoliating and removing build up. The Triple C Hair Mask clarifies and cleanses your hair, removing product cast and conditioning your hair to better receive moisture. The Tangle Release works as a pre-poo and detangler but also can be used as a deep conditioner. The Avocado Honey Mint Hair Smoothie restores and replenishes your hair while also stimulating your scalp to increase circulation and promote growth. The Hydrating Leave In Conditioning Spray, Moisturizing Hair Milkshake Creme, Brownie Hair Butter and StrandStrengthener Hair Oil (MixxTresses Moisture Maintenance System) all work together to help train your hair to better retain moisture in between washes.
*Comes with a FREE  MixxTresses StrandSaver Detangling Flexxeebrush. 
Scalp Scrub (4 oz)
Tangle Release (8 oz)
Triple C Hair Mask (8 oz)
Avocado Honey Mint Hair Smoothie (8 oz)
Hydrating Leave In Conditioning Spray Mister (8.5 oz)
Moisturizing Hair Milkshake Creme (8 oz)
Brownie Hair Butter (4 oz)
StrandStrengthener Hair Oil (2 oz)